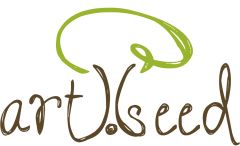 ArtSeed is owned and operated by local artists.  Exhibits feature the work of local, regional and international professional artists, and student artists. The mission of ArtSeed is to support artists, provide a venue for them to live, work, and collaborate with organizations and businesses in our community in a mutually beneficial relationship.
Memberships to Artseed are available for artists, individuals, organizations and businesses.
ArtSeed will host six annual onsite exhibits at our 1931 East Spring Street location in addition to collaborative exhibits, events, and educational programs with Schmitt Furniture, Indiana University, Purdue:Polytechnic, Louisville Visual Arts Association, New Albany and Floyd County Parks Department, Local Schools, Friends of the Town Clock Church, Brick Street Studio, Louisville Photo Biennial, James Bourne Gallery, St. Pauls Arts Council and more.
As a matter of policy we collaborate with multiple galleries, businesses and organizations to create community arts programming. If you are interested in collaborating, sponsoring, or hosting programming please contact us.
Thank you to our sponsors, Tabitha and Jim Sprigler; owners of Halo Dash and Conflux Wellness. Exhibit, receptions and lectures are free and open to the public.
For more information, please contact Julie Schweitzer at julie@artseed.art or 502-649-3320.
ArtSeed Staff
Julie Schweitzer
Julie is the visionary, artist, and Executive Director of ArtSeed. She has been actively involved in the developm
ent of the regional arts community for over 30 years. She enjoys seeking new challenges and strives to develop, implement and build cross institutional relationships. She has cultivated an excellent working relationship with local, regional, national and international arts programs and media. These relationships have enabled the funding of programming through grants and corporate and private donors, the creation of innovative programming, international recognition and the advancement of the regional arts community.
Trish Korte
Trish is ArtSeed Education Coordinator. Trish recently retired after 25 years as an Art Instructor for New
Albany/Floyd County Schools. She is an accomplished educator with extensive experience in developing curriculum for Fiber Arts and all other areas of fine art. Exceptional background in designing meaningful and effective coursework that engages students and expedites learning. Experience in community outreach through city and privately funded sculptural projects and art exhibitions. Active member in both educational and art organizations and a regular presenter at state level conferences as well as coordinating and teaching classes for art teachers and students of all ages and learning levels through visiting artist programs at the University of Louisville and Louisville Visual Art.
Kimberly Sheets
Kimberly is inventory and facilities management. She recently moved to Clarksville with her husband, Jim. Her artistic interests are in watercolors, acrylics, and chalk pastels. She is passionate about writing poetry and authored two short stories included in a collection           published for charity support. Kim enjoys involvement in church and community.
Gracie Koesters 
Gracie is currently a student at Presentation Academy and graduated from Saint Anthony of Padua
School in 2017. She has been interning with Julie Schweitzer for four years. Throughout her time as an intern, Gracie has participated as an exhibiting artist, curated and installed exhibits, written press releases, assisted with grant writing, managed social media and website content, created, planned and facilitated events. Her educational background includes: painting, sculpting, printmaking, drawing, wood arts, and playing guitar. Her community activities include: STEAM Club, Book Club, and Presentation Theater scenic designer. Her aspirations are to become a working artist in our community.
Sarah
Sarah is a recent Bachelor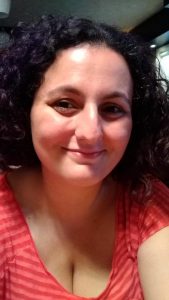 in Fine Arts Graduate from Indiana University Southeast and is a Kentucky native living in Jeffersontown. She has been interning with Artseed since April now. Sarah participates in creating press releases, managing social media, and installing exhibits here at Artseed. Her educational background includes: Painting, Printmaking i.e. Lithography and Cyanotype, Drawing, Writing and Fiber Arts.