Corporate Events Program
The Corporate events program provides the opportunity for you to create a unique experience for you and your employees.
Events can be designed for companies with as few as five employees to large firms with thousands.
Artisan picnic – blacksmiths, sculptors, weavers, stone carvers, clay and wood artists, musicians and dancers will engage your employees with hands on activities,
Studio Tours– Employees will be taken on private tours of regional artists studios.
Concert Series – Monthly concerts, on or off site, in selected genres.
Dance Series – Participate in/at various dance forms and events
 Balance Holistic Salon and Spa – Corporate Collection Exhibit Program
November 2017 – November 2018  Artist and Client Reception: June 29th 2018
Balance Holistic Salon and Spa's mission is to provide a holistic and relaxing environment for their guests, as they rediscover what true beauty means to them. We invite you on
June 29, 2018 to join them for an exhibit of artwork provided by the ArtSeed Corporate Collection Program. The exhibit includes work by the following artists.
Shawna Khalily
Regional artist that creates elaborate woodcut prints. Her work focuses on what it means to be human and the human experience.
Kevin Schultz
Artist and Art educator, Kevin Rose Schultz, plays with the beauty in nature and the female form. These artworks explore the relationship of flower gardens and how they can reveal a sense of inner beauty in the human form.
David Becker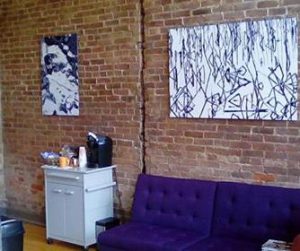 Local photographer who depicts moments frozen in time to evoke an emotional response from the viewer. Working with both color and monotone images he uses space, negative space, shapes, line, tonality or color as the primary object of the image.
Trish Korte
Local Fiber and Textile artist who focuses on elaborate surface design with an emphasis on color, repetition and form to create both 2 dimensional and sculptural works.
ArtSeed's Corporate Collection Program enables a business to exhibit and gradually build a collection of fine art in their workspace while investing in the cultural arts of the region. If you are interested in participating in our Corporate Collection Program, you can contact us via 502.649.3320 or email hello@artseed.art.
The event is free and open to the public. Balance Holistic Salon and Spa is located on 1419 E Spring St. New Albany, Indiana 47150.