Wood and Clay Show
June 8, 2018- August 3, 2018
Opening Reception: June 8th                        5:30 P.M.-7:30 P.M.
Please join us for WOOD and CLAY. Meet our new artists and enjoy the different approaches and mediums. This is the perfect show to pick up a wonderful Father's Day and/or graduation gift. The participating artists include:
Alan Mason is a box crafter, retired English teacher, and native of Floyd County Indiana. Mason says, "I find myself listening to what the wood wants to become and letting what I hear guide me in making boxes…. Sometimes I tell the wood what it wants to be, and sometimes the wood tells me… So far, both the wood and I are happy with the process." Mason, with a nod to his literature background, includes notes and stories with each box inspired by his vision, the wood, and/or current events. For Mason, "the creative impulse is as natural as breathing, and just as necessary. It will always find a way to express itself in art, literature, music, or even boxes."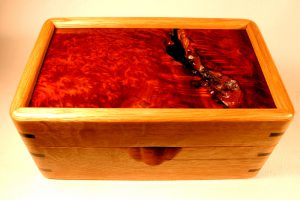 Kimara Wilhite is a second generation, self-taught, New Albany-based photographer. She loves to travel and finds great joy in capturing nature and dramatic light. She has a lifelong love of horses; the wild horses and solitary trees on the beaches of North Carolina have become a favorite subject.
Carl Degraaf is a Floyd County clay artist and retired Indiana University Psychology Professor. He credits his Dutch heritage for the practic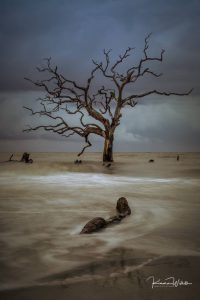 ality and functionality of his work. However, he says, "Beyond being utilitarian, less than an extravagance, hand crafted pottery is a modest indulgence to be enjoyed as a luxury on a daily basis". His work is created on his ninety-six-acre farm, and the beautiful boxes and vessels are clearly influenced by his love of nature.
Floyd Cornet is a Jeffersonville, Indiana native and self-taught sculptor. His influence ranges from whimsical to abstract. He creates oversized functional pocketknives, carved barrel tops, and large totem poles- whatever strikes his fancy. They are all crafted with precision and character.
The reception is free and open to the public. For more information contact Julie Schweitzer @ julie@artseed.art, 502-649-3320, or visit our website at www.artseed.art
---
Please join us for the opening reception on April 20th for the opening reception of Fiber, Fabric and Fashion. Also, get a sneak peek at some of our new artists and upcoming exhibits.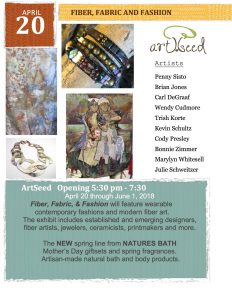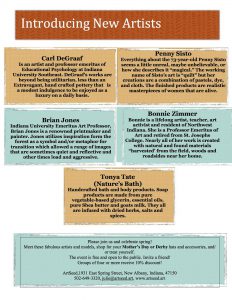 The opening reception for ArtSeed IMAGINE PEACE  NOW and Kenneth Hayden has been rescheduled for January 26 from 5:30 – 7:30 pm
 
The Opening reception at KCAAH is
January 20 from 6:00 – 9:00 pm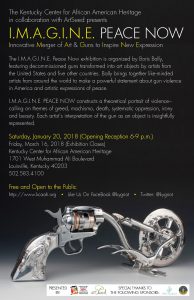 I.M.A.G.I.N.E. PEACE NOW
and
Kenneth Hayden
ArtSeed Gallery – January 26 – March 16, 2018
Opening reception: January 26, 5:30 – 7:30pm
and 
KCAAH Gallery – January 19 – March 16, 2018
Opening Reception: January 20, 6:00 – 9:00pm
As a direct reaction to the violence overwhelming our communities, ArtSeed, LLC and The Kentucky Center for African American Heritage will host two art exhibitions, and a cultural series sponsored by the Clifton Foundation, 21c Museum Hotel Louisville, and The City of Louisville, directly addressing the multifaceted and interconnected issues of violence in Louisville and Southern Indiana.
The project will feature the I.M.A.G.I.N.E. PEACE NOW (The Innovative Merger of Art and Guns to Inspire New Expressions of Peace Now) exhibition, an exhibition organized by renowned metalsmith, artist Boris Bally. The show features dozens of works made from decommissioned firearms by artists from the United States and 6 other countries. The exhibitions will serve as an artistic catalyst for not only critical discussion, but ongoing action.
I.M.A.G.I.N.E. PEACE NOW constructs a theoretical portrait of violence — calling on themes of greed, systematic oppression, irony, and beauty. Each artist's interpretation of the gun as an object is insightfully represented.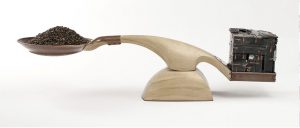 The programming in conjunction with the exhibits, will work to present violence as a phenomenon that is more than just incidental, but nuanced, deeply rooted, and non-discriminate and will directly address these questions: "What needs to change, and how will each individual implement these changes?'
Approximately 56 works from I.M.A.G.I.N.E. PEACE NOW, will be exhibited at The Kentucky Center for African American Heritage in Louisville, Kentucky and ArtSeed in New Albany, Indiana.
At ArtSeed, a small preview selection of The IPN exhibit will be shown in conjunction with the works of Louisville artist, Kenneth Hayden. Hayden is a native Kentuckian whose work has been
internationally and is included in public and private collections. The themes of Hayden's work for this exhibit are dense and eye-popping paintings and sculptures. they seem light-hearted, with easy surface appeal for their candy colors, yet Hayden is expressing themes that are much weightier, even darker than his Pop Art palette would suggest. Hayden's use of gun and lotus imagery is inspired by the 1960s-antiwar movement.
The bulk of the IPN exhibit will be shown at KCAAH. KCAAH will also host an exhibit of work by Jailyn Stewart. Stewart, a self-taught Louisville native, paints portraits of victims of gun violence in a way that both honors their lives, but brings stark attention to the catastrophic nature of violent deaths.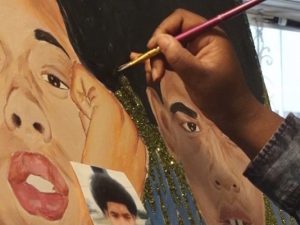 Where the exhibit addresses violence from a conceptual lens, the work of Jailyn Stewart emphasizes the painful, interpersonal, and destructive effects that violence has on individual lives, and communities.
The juxtaposition of IPN, Kenneth Hayden, and Jailyn Stewart's work creates a holistic approach to conversations regarding gun violence.
For this collaborative project, works of art will serve as the foundation and common ground for a series of programs and discussions that will provoke action.
Exhibit, receptions and lectures are free and open to the public. For more information please contact Julie Schweitzer at julie@artseed.art or 502-649-3320.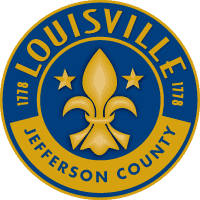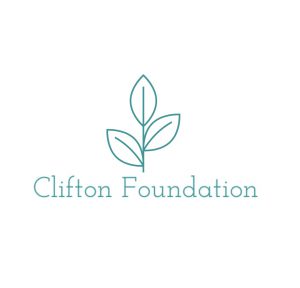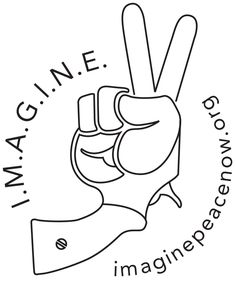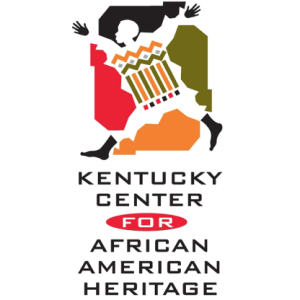 ---

Friday, November 10, 2017
6:00 pm to 9:00 pm
ArtSeed, in collaboration with the Floyd County Government and a grant from the Indiana Office of Community and Rural Affairs and the Indiana Office of Tourism Development, presents Platform 22. Platform 22 is a public arts initiative designed to bring arts and education to the residents of Floyd County.
Spread across 10 locations, each outdoor wall provides an opportunity to display important pieces of art through history, local art, and community art. Each location will provide a unique experience with alternating pieces.
Come celebrate with us as we unveil the "Popup Gallery designs". The Artists selected for this round are part of the Louisville Biennial Exhibit at ArtSeed Gallery and Brick Street Studios in New Albany and ArtSeed Educators. The original artworks, the artists, and the Floyd County Commissioners will be on hand to present the project, and answer questions about the program. Artists Include: Kimberly Carroll Raber, David Modica, Kevin Schultz, Wini Harrison, David Becker, David Imbrogno.
The program name, Platform 22, was chosen as both a homage to the county's railroad heritage through the local train platforms and as a concept of transporting people to new and exciting places through art.
Platform 22 is designed to use currently underutilized public space and transform it into areas where the community can sit, view, discuss, and interact in a vibrant public space. This will not only connect the community to the art, history and heritage, but will provide opportunities for connections between members of the community.
An important component of Platform 22 is the collaboration with local partners including: Indiana Office of Community & Rural Affairs, Indiana Office of Tourism Development, Floyd County Commissioners Office, Floyd County Parks Department, Open Door Youth Services, Floyd County 4H, Floyd County Purdue Extension, New Albany Floyd County Public Library, Jacobi Toombs and Lanz Inc. and ArtSeed, LLC.
The reception is free and open to the public and is concurrent with our Holiday Showcase Sale.
The showcase will include affordable handmade works perfect for Holiday Gifts. Please by Local and support your local Arts Community. The reception is concurrent with James Bourne Gallery, "Studio Painters"

ArtSeed Inaugural Exhibit
Featuring
Professional Artists
Larry Beisler, David Becker, Aukram Burton, Floyd Cornett, Wende Cudmore, Susan Harrison,Wini Harrison, Shawna Khalily, Kay Kane, Trish Korte, Roxy Lentz, Lyn Oaks, Cody Presley, Pat Maxwell, Kim Raber, Chris Raber, Kevin Schultz, Penny Sisto, Julie Schweitzer, Donna Stallard.
Student Artists:
Kylie Bercot, Tyler Crady, Kylie Crawford, Lillian Davis, Fiona Grannan, Gracie Koesters, , Ashley Miles, Emma Schad, Hannah Sweet, Jenna Townsend, Madison Wolf
August 11, 2017 through September 20, 2017
Opening reception August 11, from 5-7pm
We are pleased to announce the inaugural exhibit of ArtSeed Gallery. ArtSeed is owned and operated by local artists. Exhibits will feature the work of local, regional and international professional artists, and student artists.
In 2017, ArtSeed will host six annual onsite exhibits at our 1931 East Spring Street location in addition to collaborative exhibits with Brick Street Studio, Louisville Photo Biennial, Harrison County Arts, and the Kentucky Center for African American Heritage.
The mission of ArtSeed is to support artists, provide a venue for them to live, work, and collaborate with organizations and businesses in our community in a mutually beneficial relationship.
ArtSeed is located at 1931 East Spring Street. Our Inaugural exhibit features the work of professional artists and high school student artists
As part of the ArtSeed citywide exhibit program, we are collaborating with multiple galleries to create Friday night gallery openings. This is the first in a series of exhibits featuring renowned local artists and students artists.
Thank you to our sponsor Tabitha and Jim Sprigler owners of Halo Dash and Conflux Wellness. Exhibit, receptions and lectures are free and open to the public.
For more information, please contact Julie Schweitzer at julie@artseed.art or 502-649-3320.