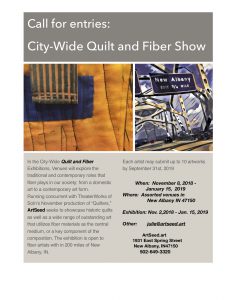 ArtSeed, Inc has developed a collaborative project with local galleries, nonprofits, historic sites, and businesses to create a City-Wide Quilt and Fiber Arts Exhibit.
The exhibit and events will run concurrent with the performance of the "Quilters" at TheatreWorks of SoIn, November 8 – 18, 2018.
Quilter, the musical is based on a book by Molly Newman & Barbara Damashek, and Music/Lyrics by Barbara Damashek. Damashek and Molly Newman wrote "Quilters," based on a nonfiction book, "The Quilters: Women and Domestic Art" by Patricia Cooper and Norma Bradley Allen.
This musical tells the story of a pioneer woman and her six daughters by stitching together a series of interrelated scenes into a rich mosaic, which captures the sweep and beauty, the terror and joy, the harsh challenge and abiding rewards of frontier life. "Quilters" comes imbued with womanly sensibilities that address the same big questions that arise in many plays that take place in the world of men.
The quilts and fiber in the City-Wide Exhibits will explore the traditional and contemporary roles that fiber plays in our society from a domestic art to a contemporary art form. Exhibits will include museum quality traditional historic quilts, contemporary quilts with a social message, and fiber used as a creative medium.