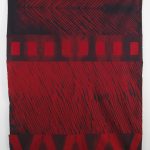 Elmer Lucille Allen, a ceramic/fiber artist, received a Bachelor of Science degree from Nazareth College (now Spalding University) in 1953 and a Masters of Art from University of Louisville in 2002. He retired in 1997 from Brown-Forman Corporation as a Senior Analytical Chemist, and now attends workshops,  volunteers in the community, and is a contuining education student.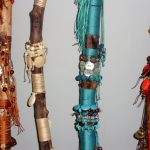 Wendi Smith has been a practicing artist for over 40 years, an art educator, and a gallery manager.  Her work is an intersection of ritual, ritual objects, and the Natural world.  She adapts reliquarys, totems, and prayer sticks to reflect the sacred quality of Nature.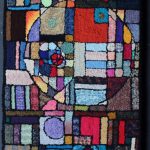 Tracy Burns was born in Kendallville, IN (Noble County) in 1970.  She and her husband, John (born in Fayette Co.) have lived in the Connersville area since 1996.  They have a 18-year-old daughter, Amaya.  Tracy has been teaching the Art of Traditional Rug Hooking to beginner and intermediate students since 2001. Her commitment to sharing her knowledge with others comes from years of study with teachers, craftsmen and artists of many disciplines from across the country. With a trained understanding of styles, methods and advanced techniques, she has taught classes at her home in Wayne County Indiana, area churches, Homemakers Retreat, Art Centers, Public Libraries, Fiber Festivals and AirVenture in Oshkosh, WI.  Tracy has won many awards for her work in the past 19 years as well as appearing in the International ATHA (Association of Traditional Hooking Artists) Magazine/Newsletter. Her work has been on display at The Henry County Arts Center, the Whitewater Valley Arts Association, Randolph County Arts Depot, RAM/Richmond Art Museum, Indiana State House, Haan Museum of Indiana Art and many Arts and Crafts groups in the Midwest. Her work has also been apart of the Fayette and Wayne County Fairs, Mooreland Free Fair, Indiana State Fair, Sauder Village International Rug Show, ATHA Biennial International Rug Show, Hoosier Women's Artists Competition. Tracy will be apart of a 3 women's Artist Show at The Art Depot in Randolph County 2018, a One Woman Show at Blackford County Art Center June 2019 and a One Woman Show at Jasper Arts Center, Jasper, IN 2020.  Tracy's love of sharing the Art of Rug Hooking has taken her to demonstrations and Presentations at many organization in numerous counties across Indiana and Ohio. For Tracy, Rug Hooking is a creative, meditative and communa lendeavor that can be shared with everyone.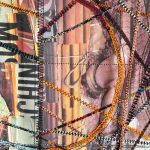 Jane studied Art and Design in Dublin where she learned about color and design while working in different mediums, painting, screen printing, glass and metal. When she left college she started working with fabric, enjoying its tactile qualities and unlimited colors. She joined the Northern Ireland Patchwork Guild and the Irish Patchwork Society and found exciting things happening in the world of textiles. She has taken numerous classes with quilt makers she admires, learning different techniques and observing how other artists work.
She gets inspiration from the world around, taking photographs and every day she must create a collage in her day journal which gives her ideas for new work. Recently she started working on a series based on the spiral, an old Celtic symbol found on ancient stones in Ireland. It is a very therapeutic symbol to work with.
Jane travels to Nepal about twice a year to buy the beautiful colored cotton and has exhibited her work in her own country and in Europe, USA, and Japan.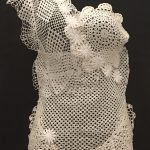 Kevin Rose Schultz is an Artist and Educator who loves learning and exploring processes in fibers. Her most recent passions are ECO & Cyanotype printing. She recently won five first place ribbons and the High Tech Art Forms Award at the 2018 Kentucky State Fair.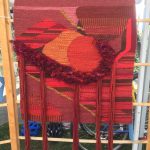 Lynne is a life resident of New Albany descended from a long line of fiber artists who passed their fiber knowledge and skills on to her. She is a Grandmother and the mother of two children who live in her two favorite cities – New Orleans and San Francisco. A retired teacher, Lynne now works full time as a fiber artist.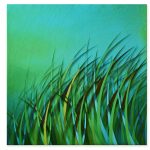 Linda Witte Henke is an award-winning mixed-media artist whose work invites reflection on spiritual themes. Informed by academic degrees in journalism and theology, extensive studies in art and surface design, and experiences as a parish pastor and published author, she employs a variety of media, processes, and techniques to effectively execute her design vision. Henke's work has been displayed in juried solo, group, and invitational exhibitions in Europe, Asia, and North America, where it also resides in corporate, parish, and private collections. Images of her work are frequently published in books, magazines, and journal articles, as well as on websites and in online exhibitions.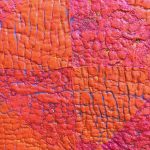 Denise Mucci Furnish was born in Louisville, Kentucky. She has a BA from the University of Kentucky and a BFA and MA from the University of Louisville. She has backgrounds in quilt restoration, painting, surface design, and graphic design. The vernacular of antique quilts is the driving force behind her paintings. Her work has been exhibited internationally and has won awards in national exhibitions. A 2-person exhibit "Color Works" was shown in 2014 at the Kentucky Museum of Art and Craft. She currently works from her Portland studio in Louisville.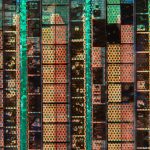 Professional activities include being an adjudicator, lecturer, and curator of exhibitions, set designer, workshop facilitator, non-profit board member, art mentor, and advisor. His fiber art works have been exhibited extensively regionally, nationally, and accepted by jury into international exhibitions including the 8th and 14th Biennial of Tapestry in Lausanne, Switzerland, the Textile Triennial in Lodz, Poland, and the International Textile Competition in Kyoto, Japan. Sandoval retired in 2017 from the academy after forty-four years of teaching at the University of Kentucky. His fiber art has been published in several books including: MAKERS; Beyond Weaving; Fiber Soft Sculpture; Vietnam: Reflexes and Reflections; Interlacing; Celebrating the Stitch; International CRAFTS; The Art Quilt; The Quilt; Imagery on Fabric; The Surface Designers Art; Arturo Alonzo Sandoval: A Retrospective; and many fiber art and craft exhibition catalogs and journals as American Craft Magazine, Fiberarts Magazine, and Surface Design Journal. Work produces results, is his mantra.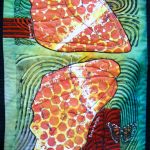 Trish is ArtSeed's Education Coordinator. Trish recently retired after 25 years as an Art Instructor for New Albany/Floyd County Schools. She is an accomplished educator with extensive experience in developing curriculum for Fiber Arts and all other areas of fine art. Exceptional background in designing meaningful and effective coursework that engages students and expedites learning. Experience in community outreach through city and privately funded sculptural projects and art exhibitions. Active member in both educational and art organizations and a regular presenter at state level conferences as well as coordinating and teaching classes for art teachers and students of all ages and learning levels through visiting artist programs at the University of Louisville and Louisville Visual Art.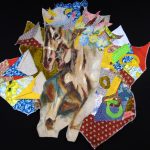 Sometimes you just gotta make stuff. And then nail that stuff to a wall for people to look at. This is one of those times. 
Joanne Weis is a mixed media textile artist in Louisville Kentucky whose work can be found in numerous private collections around the country. After retiring from a full career as a social worker, she graduated with a Masters Degree from the University of Louisville Fine Arts program. In addition to creating fiber art, she juries and curates shows, teaches and, as past president of the Louisville Area Fiber and Textile Artists, promotes appreciation of fiber and textile art within the community.